With the impending Hurricane Dorian there were a number of days leading up to the predicted landfall that were going to be clear and low winds, the calm before the storm if you will.
One thing I always try to do is fish right before a front or named storm as the approaching weather always seems to have the fish in a very corporative mood. This trip was no different, I had Guffy and his friend Dave on the skiff as Guff set it up to give his best friend Dave plenty of bow time of what was setting up to be a good day.
The day started as many do, launching in the refuge, making a a quick run and quietly poling our shoreline of choice. Early it was flat calm and the noseeums were feeding, on us. One of the many reasons I fish in pants no matter this time of year, I like to stay out of the sun as much as possible and number two, bugs. Doesn't happen often but when the noseeums are out, they are out. Needless to say, the cigars were out early in the morning to offer some relief!
Our first stop had a number of tailing fish and it is always exciting to see separate groups of fish that you can work independently of one another as you move across the flat. If the first group doesn't want to play you have your next target already in sight.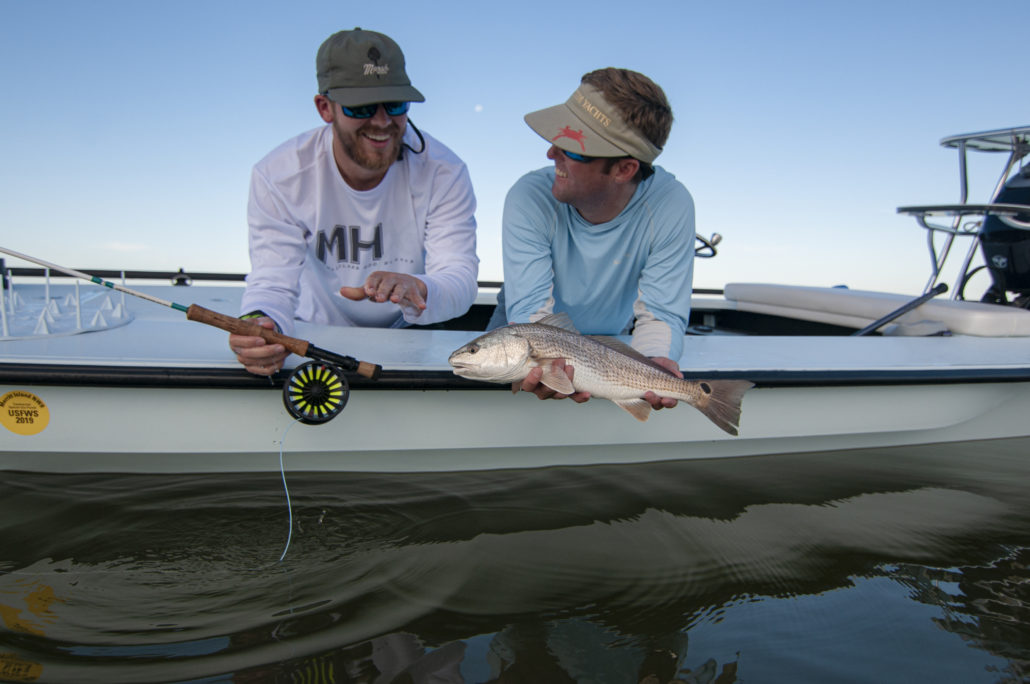 The first pair of tailing fish seemed happy and calm as we approached and although Dave's first cast was off the mark he made an excellent correction with a clean pickup and put-back (no false casts) that did the trick. Two bumps and the first fish of the morning was on!
A beautiful redfish that had Dave out on reel and Guffy on the Rising Net, the first redfish came aboard, quick photo and release and Guffy's turn on the bow was next, but not before a few sips of celebratory Maker's Mark between the boys.
About as quick as Guff can step up on the platform and get line off the reel a group of tails rise up about two cast lengths away. As we approach and stare them down we notice it is a mixed bag. Guff asks, "Those aren't all redfish are they?" I respond with "Nope, Good eye. It seems the Reds are feeding off of the Stingrays." We slide in and Guffy lets one go, bump bump and he comes tight! "Something doesn't feel right" Guffy says, it looks to be just a slow pull going away from the pack. Good news is the fish have not spooked. I tell Guff to point his rod right at the fish and pull the fly. Two things, if you have the ray hooked in the mouth, we can get him to the boat and released quickly or break him off. The other option and what typically happens is you have foul hooked the ray and a straight pull can free the fly and you are ready to cast.
Thankfully, the straight pull works and with very little pressure the fly comes right back at us. A quick inspection and all is good. Two quick false casts and Guff gets the fly back in on the Redfish Tails the line is immediately tight and this is a bigger Red than we expected to be in the group. The line clears easily and the fish is on the reel and almost out to the backing. As always Guffy is ear to ear smiling and loving his new Sage X in "Jaguars Teal" as he calls it. Dave nets the fish and a couple quick photos and a bruiser of a redfish slides away to fight another day.
Unfortunately, we got spotted by another skiff that just couldn't resist letting us have the redfish we found to ourselves. If they needed to come in on us while we landed a fish, they must need to catch one worse than us so I just let them have it. We picked and move and thankfully met by a new group of fish, maybe it was karma but we would happily take it.
Dave was back up and took multiple shots into tailing fish that seemed to want nothing to do with his fly. On his third shot, slowly working the fly through the group we were all on pins and needles expecting an eat at any time. Nothing. I told Dave to give it one more shot and he strips the fly quickly twice to pick up and on the second strip, with the fly up on the surface, a redfish comes out of no where and eats! Thankfully it was a split second before Dave popped the fly into his backcast or it would have been a swing and a miss.
With time running out as we had to be in by lunch Guff put together a great two-minute drill on a group of redfish moving fairly quickly pushing bait and shrimp down the shoreline. We had to get on our horse and take the proper angle as they were moving away at a pretty good clip. If I had to guess we took 15-18 shots at these fish and they either ignored or snuck out quickly chasing shrimp. A few quick pushes to gain some ground and Guff lead them a little more and that is all it took. Just needed it in their zone. As Guffy had that fish boatside I couldn't help but think all that ground we covered and as quickly as we covered it was all due to the Chittum Mangrove 18. Not only is she quiet but being able to chase and gain ground on active, quick moving, feeding fish, is second to none!
Another great Pre-Storm day on the water. Going to hit it again tomorrow as Dorian has slowed down and increased our window. Pray for those in the path.
https://endlessflatcharters.com/wp-content/uploads/2021/09/ENDLESSFLAT_NO_BAR_Stroke.png
0
0
Capt. Chris Adams
https://endlessflatcharters.com/wp-content/uploads/2021/09/ENDLESSFLAT_NO_BAR_Stroke.png
Capt. Chris Adams
2019-10-19 20:46:36
2020-04-29 05:15:17
Pre-Dorian Mosquito Lagoon Redfish