Permit and Bonefish
It was a typical late spring day in Biscayne Bay, a light concentration of clouds and a pretty good breeze. Jason Foss was in town to chase to chase the usual suspects. We started out early with a long run ushered by an incredible sunrise. We came off pad to an unexpected pod of tarpon rolling in the area. Jason pulled a jig I tied the night before and although the first cast went unnoticed, the next cast was on a dime and Foss was hooked up immediately. The fish took to the air after a lighting quick 40 yard run and the jig was sent flying right back at the bow. Jason turned to me and just started laughing, "That was all I could do." We spent another 30 minutes with those tarpon, jumped one more and as the sun peeked over the first line of clouds, we split.
A nice permit
As we poled into the next spot, we had a single permit slide into range. Jason dropped the jig just ahead of the permit's path and the fish immediately turned. With a few turns of the reel the fished nosed down and smoked the jig. Foss was tight and the fish headed for the horizon. It was a good fish. Those larger ones just have a higher gear than their smaller siblings. I was down off the platform and had the motor cranked before the fish's first run was over. After a pretty good tug of war his permit was boatside. A quick photo of Jason's fish and we went our separate ways.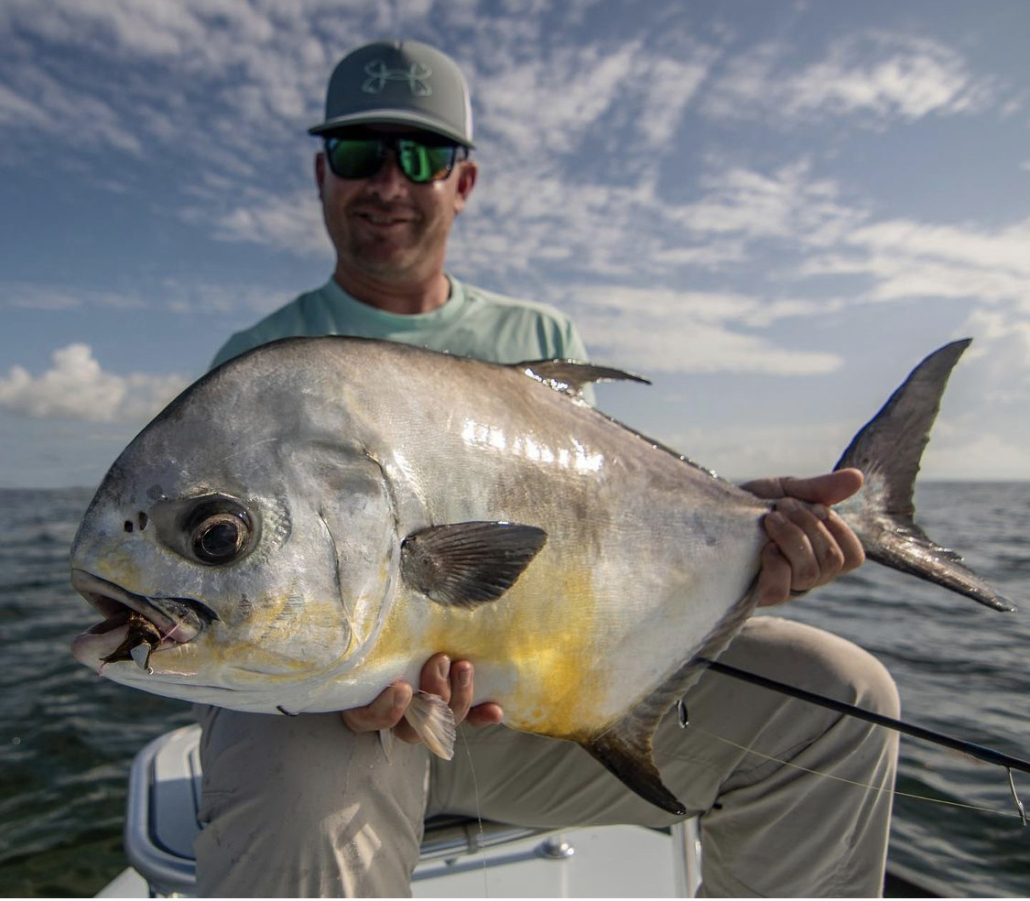 With a quick shot, we decided to stay in the area, but our efforts went unrewarded and decided to look elsewhere. A short ride later we found ourselves in the fish again. Two pairs of smaller permit passed us by like they had somewhere more important be so, we gave the finger and kept pushing. As the next group approached, we could see a mix of both small and large fish as they marched our way. You know how this story goes… a good cast, fish look interested, two larger fish lead the way and then… the smallest fish steals the show. I immediately started laughing as Foss let a few expletives fly. Apparently, as the fish headbutted each other to reach the jig, the hook point missed its mark and off they went.
Permit No. 2
As we pushed on, Jason spotted a group of permit floating, sicles high, relaxed, and happy. The first cast was right on the money and Foss was tight in an instant. After two short runs I tailed the fish for a quick photo and back in the water he went.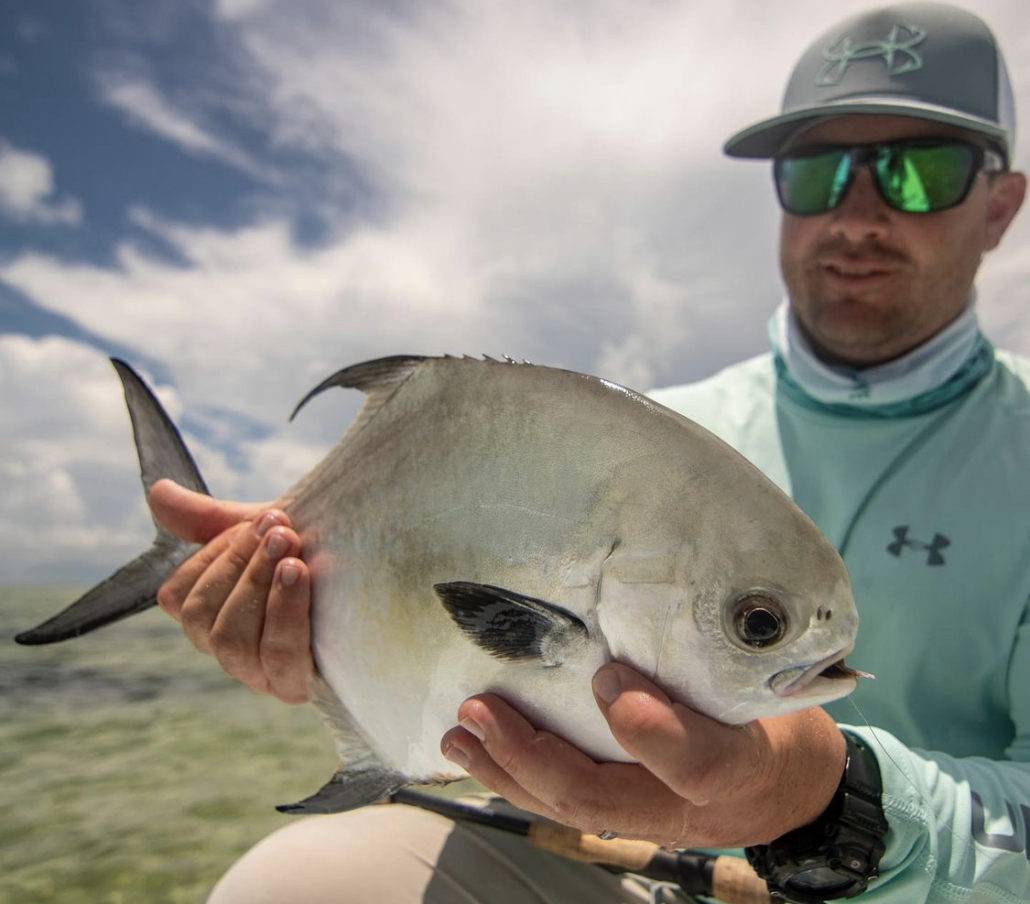 With the changing of the tide and increasing cloud cover we decided to have a look for bonefish. We arrived at the first flat a little early and did not see much so we went exploring. We lit a cigar for the run and passed by a few areas we rarely fish, until we had the ah-ha moment and stopped. A short push later and a pair of bonefish came in from our right. They were moving quickly and were mildly interested before taking off. Only minutes later another pair approached, and a well-placed cast had Jason tight again. As we fought this fish I could see a number of bonefish in the distance and I certainly ear-marked this for later.
Jason's Bonefish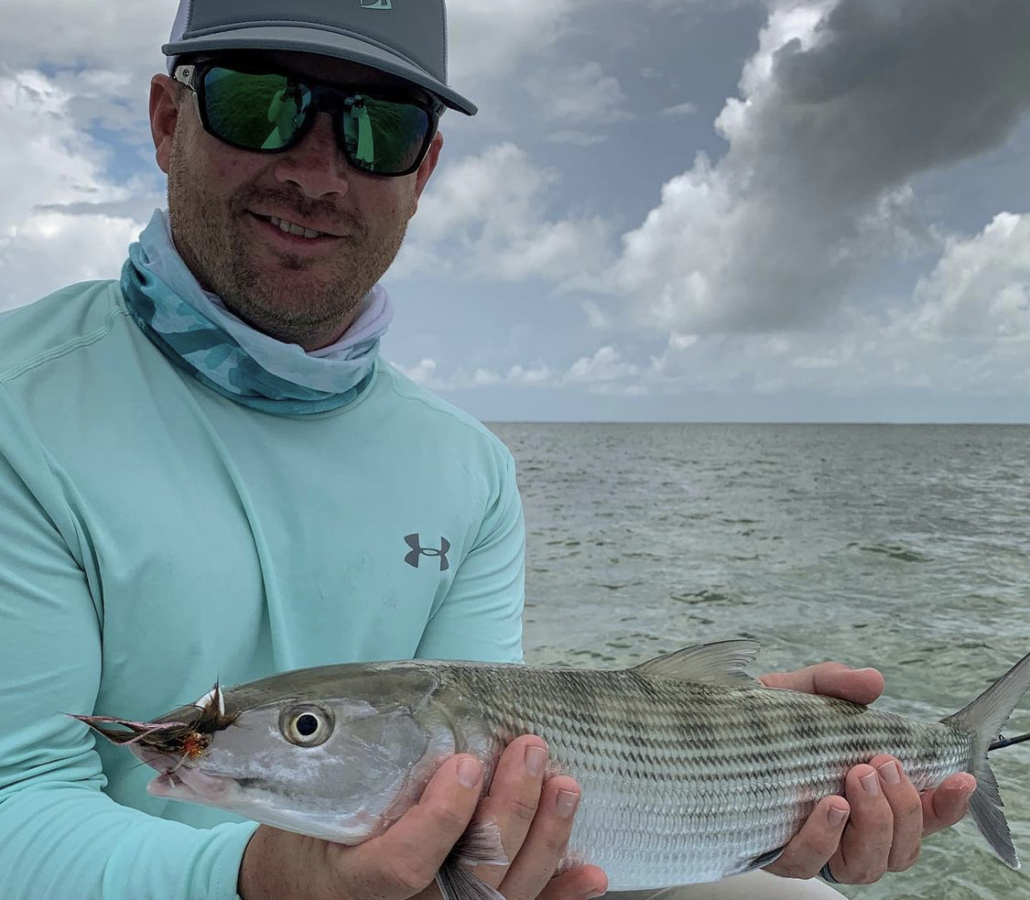 From The Endless Flat,
Capt. Chris
https://endlessflatcharters.com/wp-content/uploads/2021/09/ENDLESSFLAT_NO_BAR_Stroke.png
0
0
Capt. Chris Adams
https://endlessflatcharters.com/wp-content/uploads/2021/09/ENDLESSFLAT_NO_BAR_Stroke.png
Capt. Chris Adams
2021-04-05 19:49:45
2021-10-29 20:34:01
A Tarpon Short of a Slam