As the summer dragged on we had been fairly lucky to not have any named storms knock on our door plus the afternoon storms had been fairly light. What does that mean? Our water levels in the Lagoon have been lower and the lack of rain also helps keep the algae bloom at bay when really affects the water quality.
I received a call from a younger guy who had moved out west for his time in the military and he was taking a week off to come home to Florida and spend time with family and needed to catch his first redfish on fly. He had not seen his brother in some time and wanted to spend time on the water with him as well.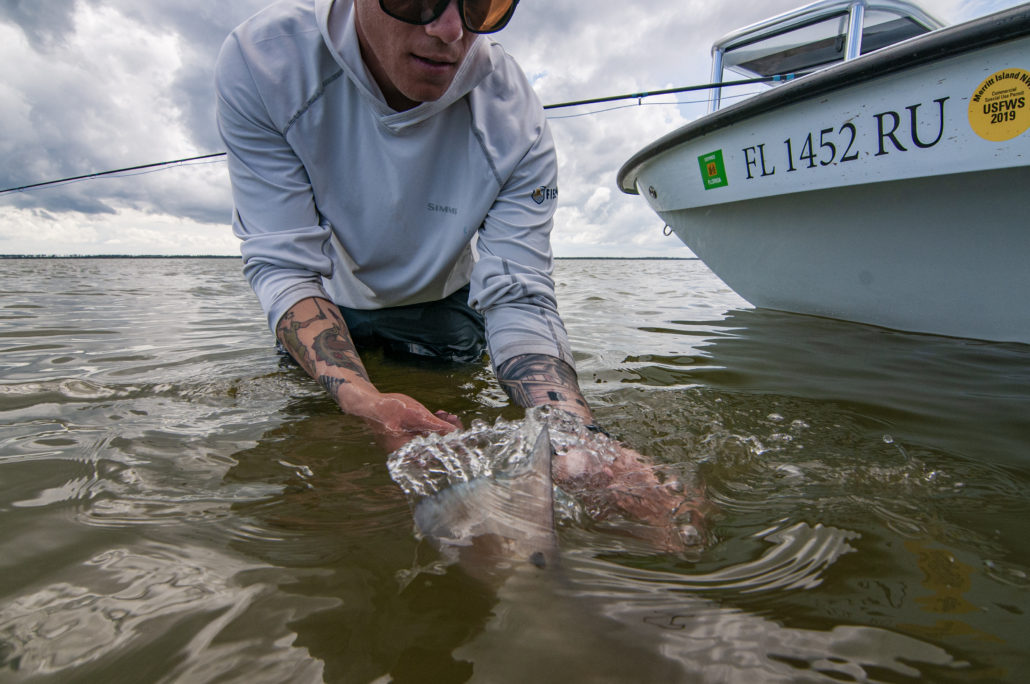 Side note, he got into fly fishing after moving out west and also a shop rat at Fish West, one of the leading fly shops both online and brick and mortar. The coolest part about that is I had no idea until we got to talking while fishing. The reason I think that is cool is he never bragged or beat his chest about working at a fly shop or acting like he knows everything because he works in a shop. Sadly, this goes both ways all too often, and I feel their pain. I managed an Orvis shop a number of years ago while guiding and hosting trips and trust me, people who work in fly shops do not NEED to hear you are a guide. You can travel to new water, shop local, ask questions and there is no need to start the conversation with you are a guide. As with many things, it is not what you say but how you say it…
*Climbs down off Soapbox*
Once he got home he sent me a few note on a blog post he was putting together for the Fish West Website that I will quote in here as I think his writing deserves to be noted as you can feel his excitement and it was my pleasure to have him and his brother on the skiff…."The excitement was palpable, I was finally able to go home to Florida with a fly rod in hand. This was a big deal to me; the guys at Fiswest heard about it for two months. I knew that I would need to be guided to learn the areas for my self-sustained trips; this is when the research started."
Nathan was the ideal client, we spoke on the phone a number of times, both knew what to expect and I appreciate him staying in touch, asking question and most off all practicing…. "I called him to introduce myself and explain my skill level and intentions. He was more than excited to get out me out on the lagoon and to school me up on fly fishing in the salt. He gave me drills and expectations for my casting distance as well as handling the wind we may encounter. Your guide is most importantly your teacher. Make them aware of what you need to learn."
Upon him climbing up on the platform you could see his smile and feel his excitement. The redfish were ready to play, "We saw our first tailing Redfish fifteen minutes into the day and we were on. My first cast of the day went right to him. Unfortunately it wasn't the fly, it was my line." I think he got a little buck fever as two healthy groups of tailing redfish right off the bow almost immediately will get anyones heart pumping!
As the morning went on the redfish were a little snobby and I feel it was wearing on the guys a little. Nathan's brother had made a nice pitch to a bank crawling redfish and that fish jumped all over his jig! It was exactly what we needed. Sometime a quick break is all you need. We had been poling a small bay that was loaded with fish but we were unable to connect and I could feel the wind come out of his sails… "We stopped and sat while I had a beer or two. We talked about our shared love of trout and rap music. My mind was back in the game. The pressure to catch fish is a trap that most of us will fall into if it is a new species or a new body of water. Remember that slow is smooth and smooth is fast. If your cast is bad it doesn't matter how fast you get the fly out, you won't catch what you're after."
Sometimes a couple beers and a few laughs out on the water with your brother is all you need to get back into the game. It worked. His brother grabbed a bank crawling redfish, high fives all around then Nathan hopped back up and you could feel the momentum shift as not 5 minutes later we pushed around a corner and… "we saw them. There was my chance. We had about five tailing Reds without a care in the world besides the food in front of them. Chris turned the boat, I took a breath, and the fly was off. Turning my mind off made it all come easy. My cast was precise, my leading was the best it had been, and I got my eat! Excitement filled the boat and my heart was racing a mile a minute. I set the fly, raised my rod tip, and began stripping. Just because the fish is bigger than you are used to, you don't have to bring it to the reel. Many fish are lost because people want to watch that reel spin. The fish will let you know when it is time to go to the reel. It was a great feeling to have Chris cheering me on as he knew this was the biggest moment of my fishing career and a top 10 moment of my life."
For me, there is nothing like watching someone stick their first redfish, whether it is 15 minutes into the day or late in the 4th quarter, it is very rewarding and exactly why I do this. In his blog I feel like he expressed a few good points in hidesight and want to leave you with one final quote from his Blog Post… "These last few things are what I figured out for myself. I believe that if you walk away without a few pages of notes you have wasted the day. Do not argue about your approach and do not discredit them because you think you know better. There is a reason they are guiding, and there is a reason you booked them. LISTEN! Remember that they are also on the boat. Chris pushed the skiff for eight hours, imagine how you would feel if someone only talked to you when a fish popped up. Don't "include" them in your conversation, have a conversation with them. Be a human being, don't drink too much, keep the fish wet, and enjoy yourself."
I had a blast with the Brothers and look forward to many more redfish with them!
https://endlessflatcharters.com/wp-content/uploads/2021/09/ENDLESSFLAT_NO_BAR_Stroke.png
0
0
Capt. Chris Adams
https://endlessflatcharters.com/wp-content/uploads/2021/09/ENDLESSFLAT_NO_BAR_Stroke.png
Capt. Chris Adams
2019-10-19 17:51:45
2020-04-29 05:15:47
Brothers and Redfish