Some days it is just your day. I had a few days off before a run of trips so it was time for a solo trip on Biscayne Bay. The plan was to check a few areas where we had been catching fish but also wanted to explore new areas.
Scouting Mission
I loaded up the boat just after lunch and headed out. It turned out to be a beautiful day to chase bonefish and permit in Miami. It was mid-week so I had the place to myself.  The first stop I saw the usual suspects. I kept my distance and just watched as fish happily tailed without a care in the world. After a quick how I headed out.
My next stop I saw two pairs of true Biscayne Bay trophy bonefish. It is incredible to study how these fish move across a flat. You pick up on other cues when your mind isn't solely focus on getting in position to catch one of these fish. It is an incredible way to spend an afternoon.
Well what turned into a scouting mission quickly became more. After three stops where no fish were seen I approached a flat and staked out the boat in hopes of intercepting permit. This was a newer spot for me, I had check it a time or two before at a different tide but figured third time was a charm. I was right.
Permit Time
A group of permit came in, did there thing and actually spent a little more time on the flat that I thought they would. Well on their second pass I could not take it and lost all will power. I pulled out the 9wt and readied myself on the bow. From my position, I did not like my shot. If I tried to reposition the boat my chances would be slim to none. So, I hopped out of the boat and went on foot.
Although I do not typically wade in water this high, as I got into position, I found a high spot with good footing and got ready. The group of permit made their pass, I took my shot and the lead fish charged the fly and ate just as I was coming tight.  Fish on. I was already over the moon. I love to wade for bonefish and permit. There is something about being up close and personal that is hard to describe. After a few exciting runs I tailed my permit, took a selfie and off she went.
Permit No. 1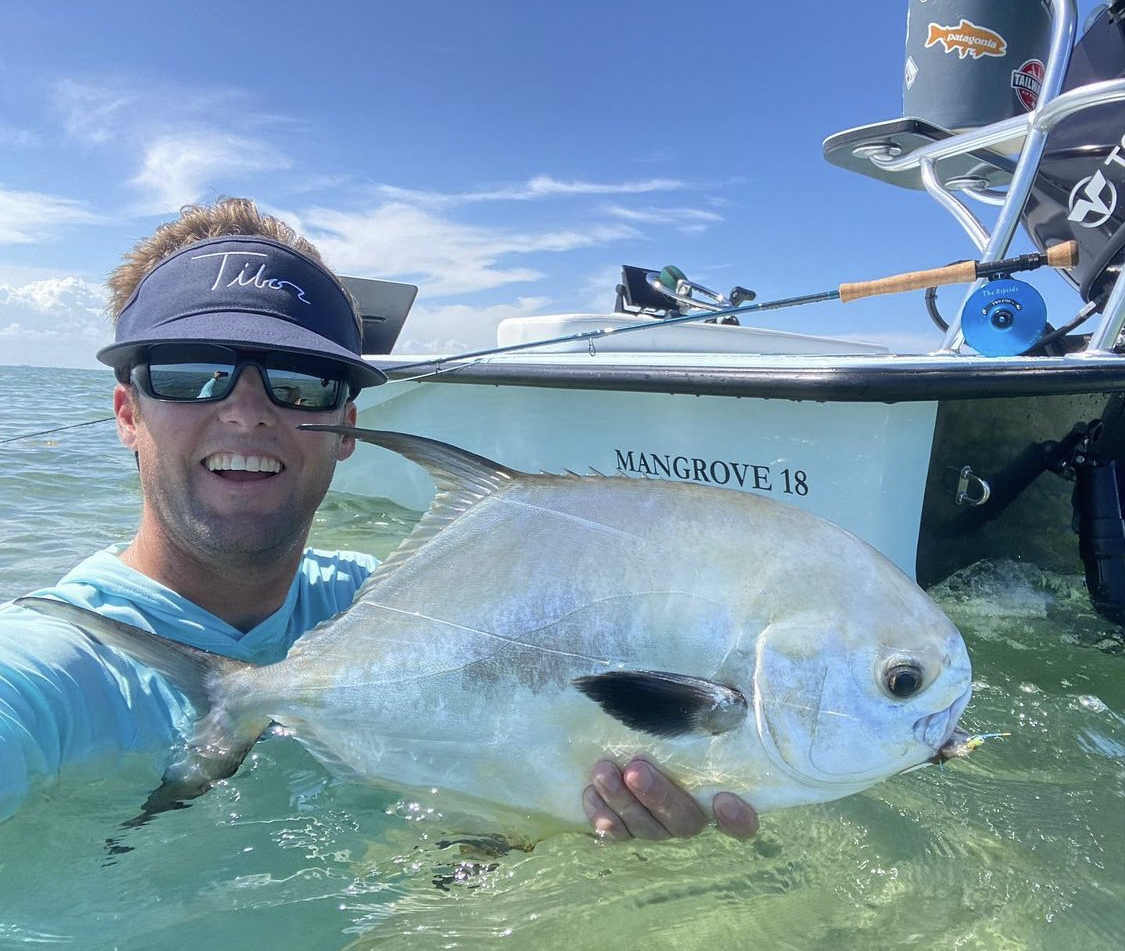 I was speechless and a little out of breath. It is the purest form of excitement. I made a few adjustments to my fly and checked for any nicks in the leader and as I turned around, another group was making their way towards me. Now, I really didn't plan on fishing or catching a permit but I couldn't leave now, right?
Well they came in close, I dropped my fly in front of the school and a fish darted out, I was on again. At this point I am in awe. Smiling, fighting my permit and laughing. Same as before, I tailer her, took a selfie and off she went. Two permit, solo.
Permit No.2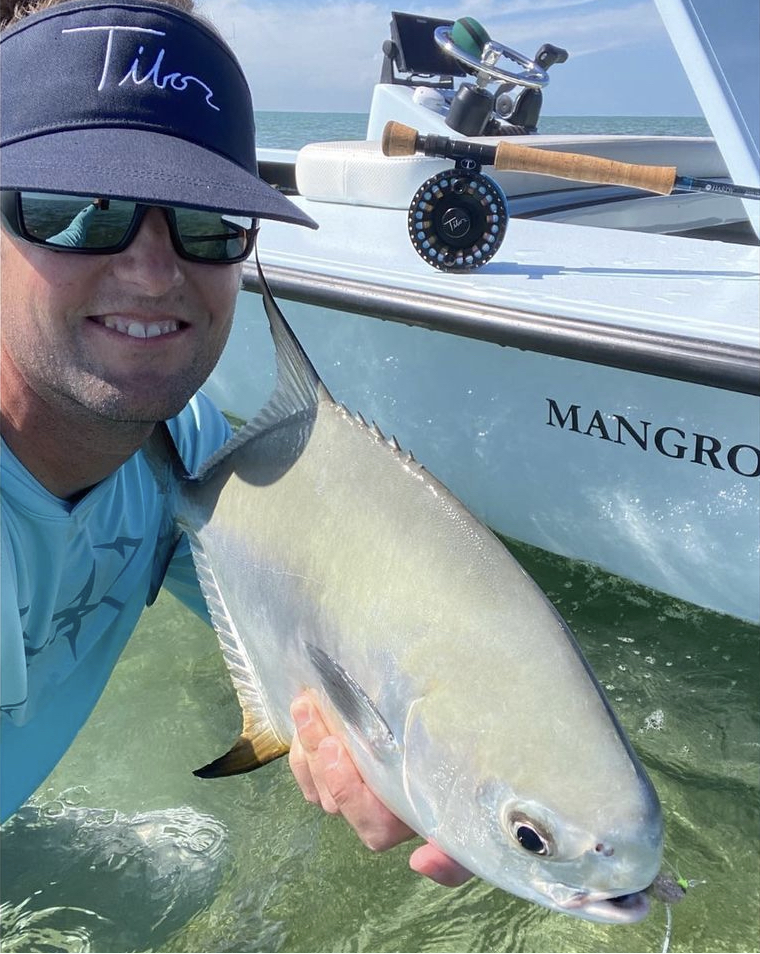 I took a minute to just feel the current wash over me and relax. I would be lying if I did not think to myself, could I catch another? Was it in the cards for another permit hat trick? I had caught three permit once before with my good friend Johan, but this was solo.
You're damn right I tied on a new fly. I slid back into position but didn't see any fish. I was checking my watch. Five minutes goes by, ten minutes…nothing. Not giving up, I planned to check one last spot. I took two steps and noticed a pair of fish fall in line. My first cast was off target but I made a solid follow up shot. The fish was tracking, I was running out of room and felt my window closing.
He ate! The leader was almost inside the rod tip. There was a lot of line to clear but thankfully I was in the water to help keep it from tangling.
As I fought this fish, I made my way back to the boat. The fish made a couple spectacular runs before I eased her by my side and tailed number three. It was amazing. I propped my phone on my cushion so I could handle her carefully and quickly send her back. No, I did not try for number four. It was time for a cigar and cruise back to the ramp.
Permit No. 3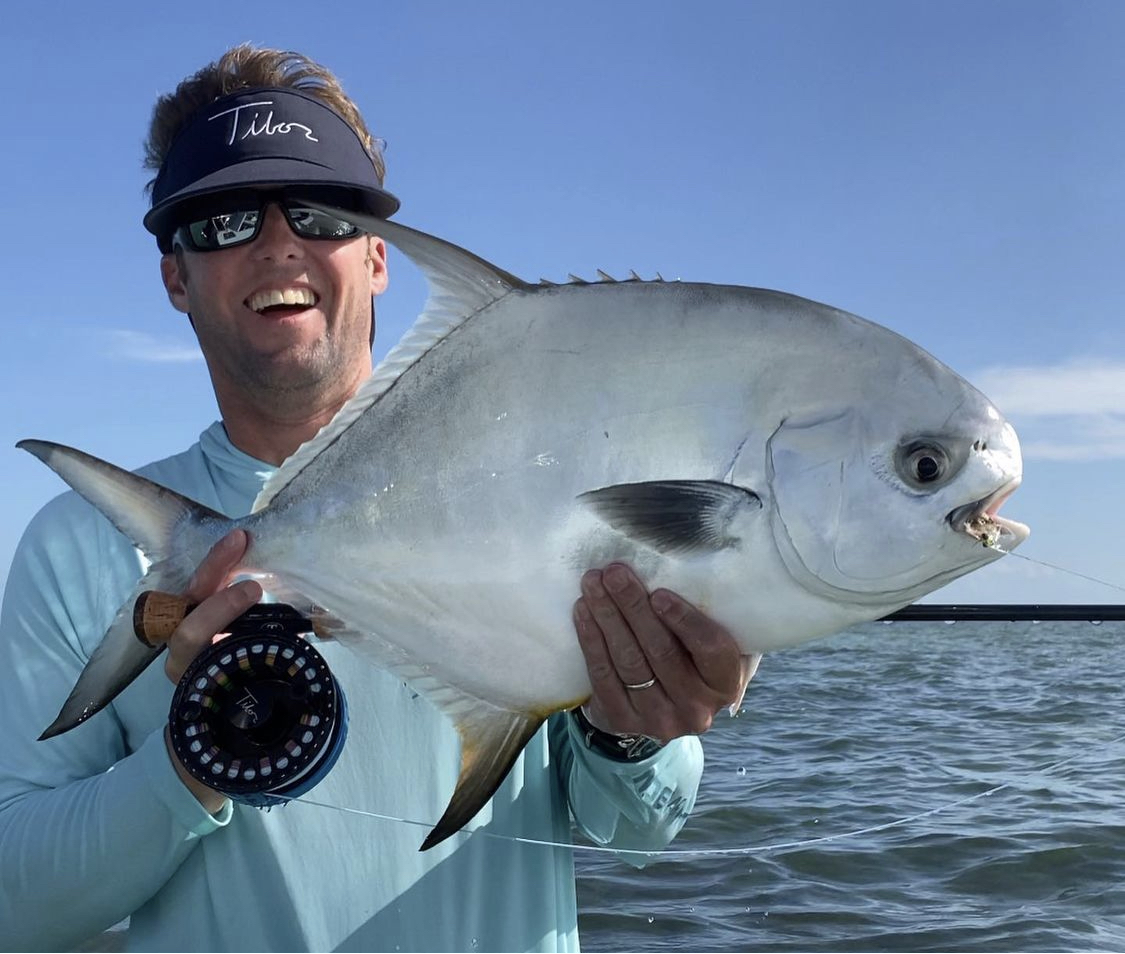 The hat trick was complete.
From The Endless Flat,
Capt. Chris
https://endlessflatcharters.com/wp-content/uploads/2021/09/ENDLESSFLAT_NO_BAR_Stroke.png
0
0
Capt. Chris Adams
https://endlessflatcharters.com/wp-content/uploads/2021/09/ENDLESSFLAT_NO_BAR_Stroke.png
Capt. Chris Adams
2021-05-15 04:08:39
2022-01-26 04:34:37
A Permit Hat Trick